21. Jan. 2013
I've rewritten the Rifleman's Creed as follows:
Cameraman's Creed
This is my camera. There are many like it, but this one is mine.
My camera is my best friend. It is my life. I must master it as I must master my life.
My camera, without me, is useless. Without my camera, I am useless. I must fire my camera true. I must shoot better than those who do not take their time to learn. I will…
My camera and myself know that what counts in this life is not the amount of photos we take, the noise of it's shutter, or the way it makes us look. We know that it is the best shots that count. We will observe…
My camera is human, even as I, because it is my life. Thus, I will learn it as a brother. I will learn its weaknesses, its strength, its parts, its accessories, its viewfinder and its grip. I will keep my camera clean and ready, even as I am clean and ready. We will become part of each other. We will…
Before Cartier-Bresson, I swear this creed. My camera and myself are the defenders of documentation. We are the masters of those who takes snapshots. We are the saviors of our creativity.
So be it, until art is victories and there are no bad prints, but only great captures.
21. Sep. 2012
To see more of my photographs and photography projects visit my photograph website at
30. Jul. 2012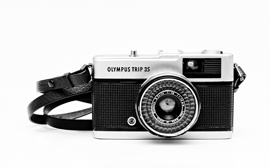 The Olympus Trip 35 is a japanese compact automatic exposure camera which was in production from 1967 in to 1984, with over 10 mio units sold. This camera was marketed towards being a compact, easy to use camera for traveling, hence the name trip.
24. Jul. 2012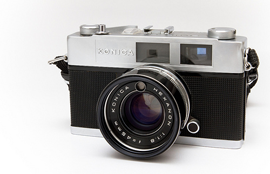 The Konica AUTO S2 is a japanese 35mm rangefinder camera from the mid 60′s. It features a fixed 45mm f/1.8 Hexanon lens and a built in light meter